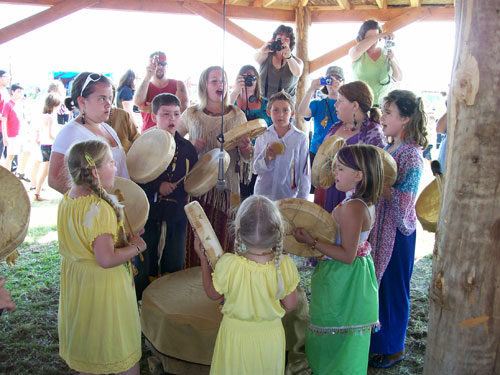 The Flat Bay Band Council hosted a community radio special event
in Bay St. George from January 19 to 20, 2012.

We broadcast at 104.7 Stereo FM
and simultaneously webcast.

Click here to see photos of the event.

Click here to see Flat Bay Band Council photos from Carolyn Sheppard.

January 20: 9 am: We are back on air for our second day of Ewipkek Radio from Flat Bay, NL.

If you post a message on Facebook or Twitter
we will read your message on air.

January 19: 12 noon: So far today our programming has included a focus on the National Aboriginal
Women's Network with Bonnie Rotchford and Janet Bennett. Danielle
and Peggy also interviewed Ivan White and Jackie Snook on Captive Expressions.

Ivan and Calvin discussed local Mi'Kmaq history
while Jackie interviewed Carolyn Sheppard of Grandmother Drum.

10 am: E'wipek Radio is on air. We began with drumming and a prayer.

We also have great support from community studies students
from the College of the North Atlantic.

Thanks to coordinating instructor Cheryl Hayden and students
Danielle Starkes, Peggy Chubb, Reggie Marsden, and Paddy Basto.

Follow our FaceBook at:
http://www.facebook.com/ryakuga

Twitter at:
http://twitter.com/ryakuga

January 18: 2 pm: We have started webcasting from Flat Bay
with recorded music until our FM broadcast begins at 10 am on Thursday.

It should be stressed that we are webcasting
from a rural area - we try to ensure that even dial up
listeners are supported so we use a highly compressed
mono audio stream.

Think of the webcast as a rural pub.
There is limited room inside (our bandwidth)
so you may have to wait until somebody
leaves before you can get in.






All music, graphics and information are
copyright of the respective authors.